---
RESEARCH ACTIVITIES
---
Objectives
Our group studies novel semiconductor lasers and dynamical complexity of laser light for the modern optical technologies. In particular, our main objectives throughout this academic research aims at:

Improving optical communication systems & developing advanced solutions for optical computing or optics-based information security

Producing high purity photonic microwave generation & on-chip atomic clocks systems;

Developing novel encrypted atmospheric communication lines & unpredictable DIRCM;

Studying quantum dot lasers, quantum cascade lasers, lasers at the nanoscale.




Research area
Optoelectronics, Semiconductor Lasers and Instabilities, Quantum Confined Devices, Nonlinear Photonics, Photonics Integrated Circuits, Microwave Photonics, Silicon Photonics.

Sponsors







Main Collaborations
University of California Los Angeles (USA);
University of California Santa Barbabra (USA);
TU Berlin (Germany);
ShanghaiTech University (China);
University of New-Mexico (USA);
Air Force Research Laboratory (USA);
Office of Naval Research Global (USA);
Virginia Tech (USA);
HP Labs (USA);
mirSense (France);
Nokia Bell Labs (France);
National Tsing Hua University (Taiwan);
University of Laval (Canada)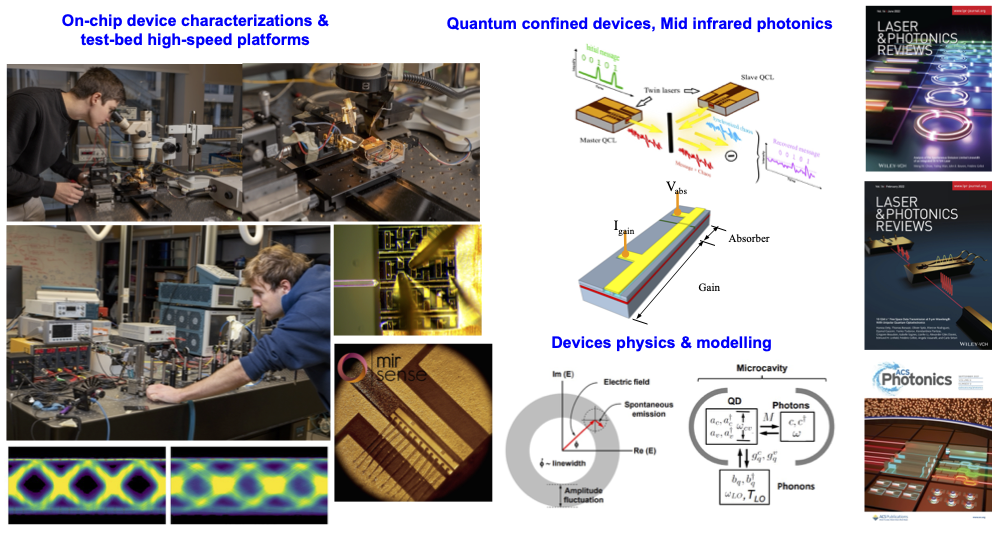 © Copyright 2020-Frédéric Grillot-All Rights Reserved.