ubit::UCursor Class Reference
Mouse cursor property. More...

#include <ucursor.hpp>

Inheritance diagram for ubit::UCursor: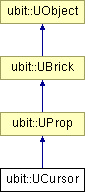 List of all members.
---
Detailed Description
Mouse cursor property.

this property specifies the shape of the cursor in a UBox. It is inherited by children, except if they have their own UCursor, or if their UStyle specifies another UCursor. As other UProp(s), a UCursor instance must be added as an attribute (or as a child) of the UBox.
See also:

: UProp.
---
The documentation for this class was generated from the following files:
---
Generated on Mon Jan 29 00:20:48 2007 for Ubit by

1.4.7