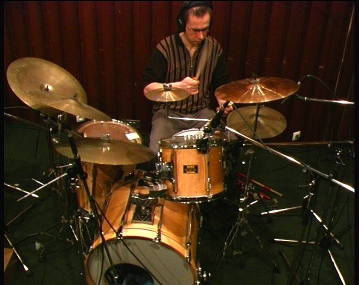 ENST-Drums: an extensive audio-visual database for drum signals processing
Olivier Gillet and Gaël Richard
GET / ENST, CNRS LTCI, 37 rue Dareau, 75014 Paris, France
PDF of the ISMIR'06 paper describing the database
The ENST-Drums database is a large and varied research database for automatic drum transcription and processing:
Three professional drummers specialized in different music genres were recorded.
Total duration of audio material recorded per drummer is around 75 minutes.
Each drummer played his own drum kit.
Each sequence used either sticks, rods, brushes or mallets to increase the diversity of drum sounds.
The drum kits themselves are varied, ranging from a small, portable, kit with two toms and 2 cymbals, suitable for jazz and latin music ; to a larger rock drum set with 4 toms and 5 cymbals.
Each sequence is recorded on 8 individual audio channels, is filmed from two angles, and is fully annotated
Here are three sample videos (here in half-size - originals are 720x576), for the Disco phrase, medium tempo, low complexity:
Drummer 1, Angle 1 (AVI, XviD encoded, 4Mb)
Drummer 2, Angle 2 (AVI, XviD encoded, 3.1Mb)
Drummer 3, Angle 1 (AVI, XviD encoded, 7.2Mb)
A large part of ENST-Drums is publicly available at diffusion cost under some conditions. These conditions include:
The use and exploitation of the database should be limited to research purposes. No commercial use is possible.
Any document describing a research work where ENST-Drums was used should include a reference to ENST-Drums and to the paper Olivier Gillet and Gaël Richard. ENST-Drums: an extensive audio-visual database for drum signals processing, In Proc of ISMIR'06, Victoria, Canada, 2006.
Read the User Licence : User licence (in English) or alternatively in French
We would like to thank:
The 3 drummers: Louis Cavé, Bertrand Clouard and Frédéric Rottier.
E. Thiévon (author) and Play Music Publishing (publisher) for the background accompaniment sequences.
The authors wish to acknowledge the support of the French ministry of research (ACI-MusicDiscover project) and of the European Commission under the FP6-027026-K-SPACE contract.