Zomit: A Zoomable User Interface
---
Stuart Pook - Eric Lecolinet, Telecom ParisTech
Semantic Zooming and Control Menus
Zomit is a generic package for developing zoomable user interfaces (ZUIs) that can aid in navigating large information spaces.
Zomit includes new navigation (focus+context) aids and a new interaction model based on Control Menus. A control menu is a new type of popup menu that is visually similar to a Pie Menu and makes it possible to select and control an operation in a single gesture.
Zomit has a client/server architecture and the client was written in Java so that it can be used over the Internet as a Java applet.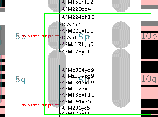 Papers
S. Pook, E. Lecolinet, G. Vaysseix, E. Barillot, Control Menus: Execution and Control in a Single Interactor. ACM CHI, pp. 263-264. The Hague, The Netherlands. ACM Press, April 2000.
S. Pook, E. Lecolinet, G. Vaysseix, E. Barillot, Context and interaction in zoomable user interfaces. ACM AVI, pp. 227-231 & 317, Palermo, Italy, May 2000. ACM Press.
E. Lecolinet, S. Pook, Interfaces zoomables et Control menus : Techniques focus+contexte pour la navigation interactive dans les bases de donnees, Revue les Cahiers du numerique, Vol.3, pp. 191-210. Hermes, Paris, Dec. 2002.
Videos